andreas weinand
photography :
biography
...............................
deutsch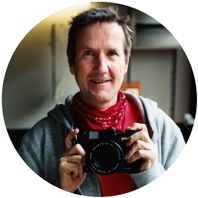 Andreas Weinand (b. 1958 in Rheine / Westfalen) is a photographer based in Berlin, Germany.
He studied photography at the University GHS Essen (Folkwang), graduating in 1990.

His likewise personal and realistic images touch fundamental questions of life. His photography
is primarily engaged in the research of personal identities. It explores the relationship between
the individual presenting his / her personality and the society to which he / she presents it.
His work has been exhibited extensively including solo exhibitions at Brandts Museet for Fotokunst
(Odense, Denmark), Contretype (Brussels, Belgium), Gallery 44 (Toronto, Canada), Gallery
Fotoimage (St. Petersburg, Russia), Matèria Gallery (Rom, Italien) and Museum für Photographie
(Braunschweig, Germany).
His images are represented in public collections, including Bauhaus Archiv, Dessau; Brandts Museet
for Fotokunst, Odense; Contretype, Brussels; Ruhrlandmuseum and Museum Folkwang, Essen.
Monographs:
The Good Earth // peperoni books 2013 / ISBN: 978-3-941825-50-5
Colossal Youth // peperoni books 2011 / ISBN 978-3-941825-29-1
Stadt Land Mensch // KuK Monschau 2009 / ISBN 978-3-00-027164-9
Publications: (selection)
BRUSSELS UNLIMITED // CFC-Éditions, Contretype et ARP2 // ISBN 978-2-87572-008-5
ADOLESCENCE, Landscape Stories 2012 / ISBN 978-88-907650-7-0
SHIFTS // Archives in Dialogue and New Identities in Documentarism, i(p+r)/n
Die anderen Städte - IBA Stadtumbau 2010 - Edition Bauhaus, Dessau, Jovis Verlag
Kolonien des Eigensinns Edition Bauhaus, Dessau, Campus Verlag
See more
details
...





<<< work // copyright © andreas weinand 2004 - 2019 : all rights reserved // impressum